As a market leader in the fireplace surround industry, Dernis partners with zero clearance fireplace distributors and installers throughout the United States. Dernis currently distributes in excess of 50,000 fireplace surrounds each year in 40 states within the United States. With our huge inventory of precut fireplace surrounds and same day shipping, Dernis is able to help its customers with inventory management.
Precut Set Sizes - Granite, Quartz and Marble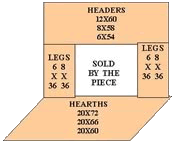 Our cleft slate hearths and headers are packed 25 sets per crate and legs are packed 50 to a crate. Slate is 1/2" thick.

Our precut sizes offer maximum value and fit most applications with little alteration.
All surrounds are packaged 5 sets to a crate and are 3/4" thick.
Custom Sizes
Can't find a precut set to fit your needs? We can alter the above or produce your exact custom size. In our Virginia Beach factory or in the numerous overseas factories with whom we are associated.
Cleft Slate Milled Back
We really go the extra mile with our slate. Our natural cleft–milled back slate is one of our most beautiful yet affordable surrounds offered. Like traditional slate surrounds, ours have a beautiful Natural cleft face but we don't stop there. Next we go the extra mile and make our slate user friendly—we milled the back to a uniform thickness if you need cleft slate that is uniform in thickness we have it. Slate is sold by the piece.
The Dernis Difference
Dernis warehouses thousands of precut fireplace surrounds and offers same day shipping of full 5 packs.
Dernis is more than an importer. Dernis has a Virginia Beach production facility and a state of the art fabrication facility in Va. Beach, VA.
Dernis maintains natural stone slabs to produce custom fireplaces, surrounds and countertops.
Dernis offers a free training class on how to properly store, install and repair fireplace surrounds.